PRODUCT INFORMATION
Specifications/Dimensions
Videos
CUSTOMER REVIEWS
Q & A
PRODUCT INFORMATION
This is the Clear Grain version of the original Gray Hammertone finish. It has all the same properties as the hammertone, but in a clear grain finish to bring out the beauty of the stainless steel below.
Made of clear powder coated 1/8" stainless steel. All stainless steel hardware. Mounting holes to accommodate 5/16" hardware (not included). Rollers, guards and impact plate, made of UV resistant high density polyethylene.
It is highly recommended to use an anti-seize compound on all stainless steel hardware installations.
See our installation video below for installing the Anchor Caddie or go to our Product Support page
Specifications/Dimensions
Videos
This video shows the basic anchor nest installation. If you have a different model, the installation may vary slightly, but the method will be the same.
CUSTOMER REVIEWS
Q & A
Does this anchor nest come with the load spreader plates and rubber pad?

Hi Jeffrey,

No it does not come with the anchor nest. Not everybody needs or wants one.

Thanks for the question!

Regards,
Paul Anderson

Due to old age and arthritis Would that anchor caddy and a Columbia River anchor work with a windless style anchor winch?

Hi Dennis,

It does not work well with a Windless system, sorry!

Regards,
Paul Anderson

What is the heaviest anchor I can use with the clear grain model

Hi Robert,

Even though we spoke on the phone, I wanted to answer here so other folks that may have the question can get the answer.

As we discussed, it is not so much the anchor nest as it is the mounting that affects the anchor size. Assuming an adequate mounting, you could put as heavy an anchor as you can carry. But if I had to throw out a number, it could arguably hold an anchor well over 100 lbs.

Thanks for the question!

Regards,
Paul Anderson

I would like to ship it to Malta Europe. Is it possible and how much would it cost?

Hi Alessio,

Yes it is possible. All you would need to do when checking out is put in the actual shipping address and it will calculate the cost after you select the shipping service you want.

Thanks for the question!

Regards,
Paul Anderson

Does the anchor come with the locking pin or is that sold separately?? Thank u

Hi Yen,

Yes, as pictured on the product page.

Thanks for the question, and thanks for the order!

Regards,
Paul Anderson

Was wondering what size anchor caddie would fit my boat best I have a 2020 hewescraft 190 sea runner.i ordered the anchor caddie gray hammer at my local west marine,but I forgot to ask for dimensions.

Hi Pedro,

The Anchor Caddie Original is about 18" long and about 3-1/2" wide and should fit perfectly on your Hewescraft 190.

Regards,
Paul Anderson

Was wondering if I can get an anchor nest sent to Canada on the Canadian website it says all sold out.

Hi Justin,

Unfortunately, during the pandemic, we are unable to get product up to Anchor Caddie Canada on a B2B level. You can however, order from the US site and we can ship direct to Canadian consumers.

Hope this helps.

Regards,
Paul Anderson

I need a drawing of this item with dimensions including mounting hole pattern so that I can be sure it will work on the boat I am building. Can you help me with this?

Hi Joe,

Here's the link to our mounting instructions that should have what you are looking for. The only thing it doesn't have is the width, which is about 3-1/2" wide for the Original and 4-1/2" for the PRO.

https://cdn.shopify.com/s/files/1/0266/2799/files/Anchor_Nest_Installation_Instructions.PDF?13568531067946986879

Let me know if you have any more questions and thanks for your interest in Anchor Caddie.

Regards,
Paul Anderson

Will this caddie work with my Danforth type anchor

Hi Benamin, Yes, it will work with a Danforth style anchor. I noticed that you placed an order a few minutes ago with our complete anchoring system, good choice!
What our customers are saying!
Anchor Caddie is high quality products indeed! Hands down the best customer service I've ever dealt with and the shipping was crazy fast. Paul answered all my questions and made sure to only sell me what I needed for MY boat. I recommend Anchor Caddie to anyone looking for topnotch anchoring systems at a good price!
I had looked for some time for an anchor nest… and it fit the bill perfectly. I have used it many times now and I am really impressed with the setup. Just as impressive was the customer service I received from you on the order…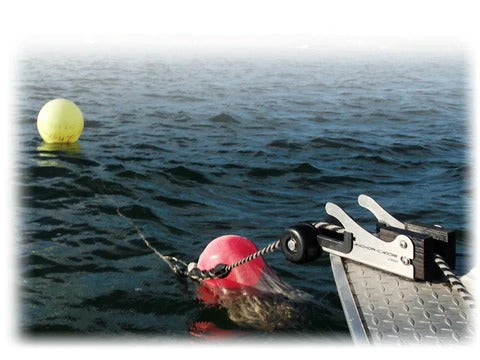 —Rod Ingram, Cornelius, OR
The anchor caddie is an awesome addition for our boat. It makes anchoring a breeze. Love the way it locks in place and allows us to travel rough water without the concern of the anchor banging around in the boat.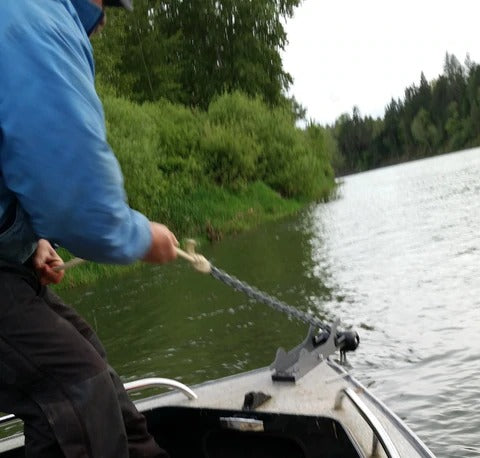 I love it! ...Thanks to Paul, Tom and all the staff at Anderson & Anderson Engineering for making such a great product.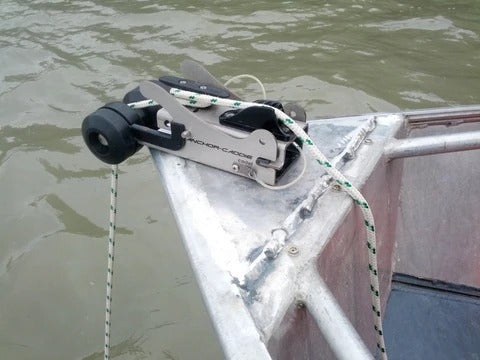 —Ron Hopp, Oregon City, OR