PRODUCT INFORMATION
Specifications/Dimensions
Videos
CUSTOMER REVIEWS
Q & A
PRODUCT INFORMATION
The Cadet is offered in a clear brush finish that really brings out the beauty of the stainless steel. The width is identical to its big brother, but the overall length is a shade over 11", compared to the 18″ of the Big Brother. It will also accommodate the same size anchors as its big brother, up to 1 3/4″ round bar and 1 1/2″ square river anchors.
Made of1/8" stainless steel. All stainless steel hardware. Mounting holes to accommodate 5/16" hardware (not included). Rollers and guards, made of UV resistant polypropylene.
Also comes with a 3/4" rear impact plate to keep your anchor from resting on the bow of your boat.
It is highly recommended to use an anti-seize compound on all stainless steel hardware installations.
See our installation video below for installing the Anchor Caddie or go to our Product Support page
Specifications/Dimensions
Videos
This video shows the basic anchor nest installation. If you have a different model, the installation may vary slightly, but the method will be the same.
CUSTOMER REVIEWS
Q & A
I'm thinking of installing a caddie on my 18' Achilles Hypalon with an 18 lb Fluke Danforth. My plan is to mount it with 2 Scotty glue on mounts (8 mounting bolts) with 2 part glue. With the anchor line secured to a D ring inside the boat I'm imagining most of the pressure being downward into the bow and not shearing or pulling. What are your thoughts? Has this been accomplished before on an inflatable boat with this sized anchor?

Hi Tim,

First, I don't know of anyone or have any experience using the Scotty glue on mounts, you would be the first ;)

I can envision that when your anchor is stowed in the Caddie and secured aft to your d-ring, it would solve the pull from the back of your pad but may cause pull from the front. Especially when under way with your bow bouncing up and down. If you do plan on being under way with it stowed, you may want to find a way to also secure the front.

If you only plan on using it only while on anchor, I can see how that would probably be sufficient, just securing the anchor line to the boat.

If the epoxy is strong as it should be, in reality, you probably would be ok without any additional support, but like you, I would be a bit concerned.

If you do plan on setting this up, I would love to see some pictures of it in use, so we can post it on our site to help others in your position.

Regards,
Paul Anderson

Does it matter if the anchor caddie is placed further out from the bow point?

Hi Jack,

No it doesn't matter, but you do want to make sure that you have at least 3 bolts installed.

Regards,
Paul Anderson

Hello. I have a Sea Cat 21 and we use Bruce and Danforth anchors. The cadet will work fot this type of achors? Do you have experience on the cadet for Sea Cat boats?

Hi Servio,

Yes, the Cadet will work for these types of anchors!

At the end of the day, most anchor nests consist of a metal frame with rollers on them.

As far as experience with a Sea Cat boat and the Cadet, no but as in the previous sentence, it would be fine.

Thanks for the question!

Regards,
Paul Anderson

will this work with a 18 lb Richter anchor?

Hi David,

The Richter anchor will not nest in the channel of the Cadet like a rocker style anchor or other anchors with the smaller diameter shaft will. In the stowed position, I see the Richter being pulled against the rollers and the 2 hooks on top of the Cadet, but would need to be constrained (pulled back) against the Cadet and secured by a cleat behind the Cadet or any other anchor nest for that matter.

As far as retrieving and deploying the anchor, you wouldn't have any issue since the rope/rode will set in the rollers.

I hope this answers your question and don't hesitate to contact if you need anything else.

Regards,
Paul Anderson

I have a 17 ft bluewater fiberglass open bow boat... what caddie would be right for a short open bow deck with front light?

Hi Patrick, You can go with any of our anchor nests, but if you go with the Cadet or Cadet Max, you will have to shim it up, so that when you have your anchor stowed in it, the end of the anchor won't hit your bow. If you don't want to deal with shimming, you can choose either one of our Originals or the PRO.

As far as the bow light, we have designed a Riser, for that specific issue.

Hope this helps?

Don't hesitate to contact us directly with any further questions.

Regards,
Paul Anderson

How wide is the anchor caddie cadet model?

Hi Samuel, the Cadet, Cadet Max, as well as the Original are all a hair under 3 1/2" wide.

Thanks for your interest in Anchor Caddie and let us know if you have any more questions.

Regards,
Paul Anderson

What comes in the box besides the anchor caddie cadet. Do the backing plates come with it?

Hi Ron,

It does not come with any plates. No installations really require them, they are more of a "might want it" situation.

Hope this helps.

Regards,
Paul Anderson
What our customers are saying!
Anchor Caddie is high quality products indeed! Hands down the best customer service I've ever dealt with and the shipping was crazy fast. Paul answered all my questions and made sure to only sell me what I needed for MY boat. I recommend Anchor Caddie to anyone looking for topnotch anchoring systems at a good price!
I had looked for some time for an anchor nest… and it fit the bill perfectly. I have used it many times now and I am really impressed with the setup. Just as impressive was the customer service I received from you on the order…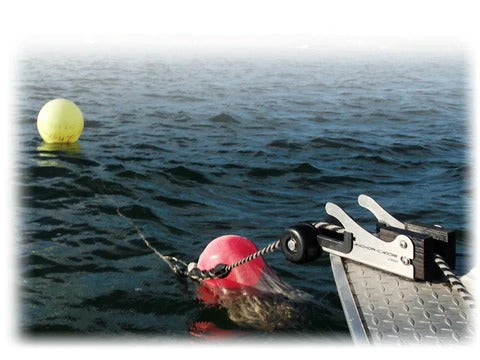 —Rod Ingram, Cornelius, OR
The anchor caddie is an awesome addition for our boat. It makes anchoring a breeze. Love the way it locks in place and allows us to travel rough water without the concern of the anchor banging around in the boat.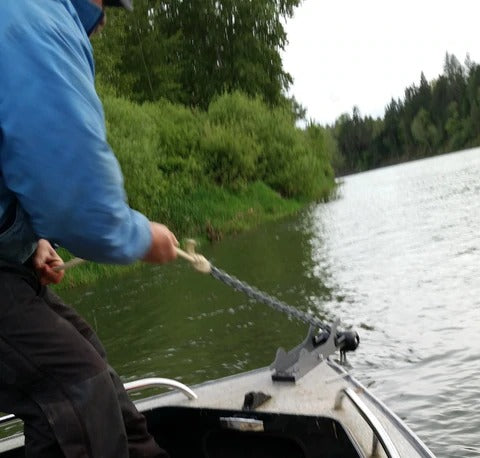 I love it! ...Thanks to Paul, Tom and all the staff at Anderson & Anderson Engineering for making such a great product.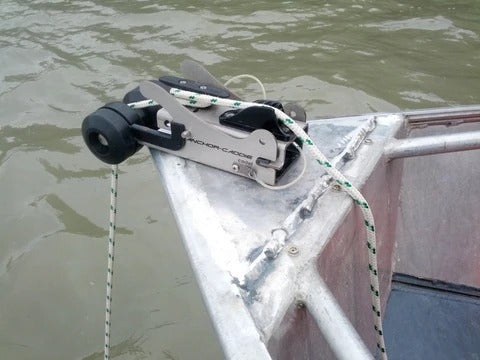 —Ron Hopp, Oregon City, OR