Best Aluminum Anchor Nest
Posted by PAUL ANDERSON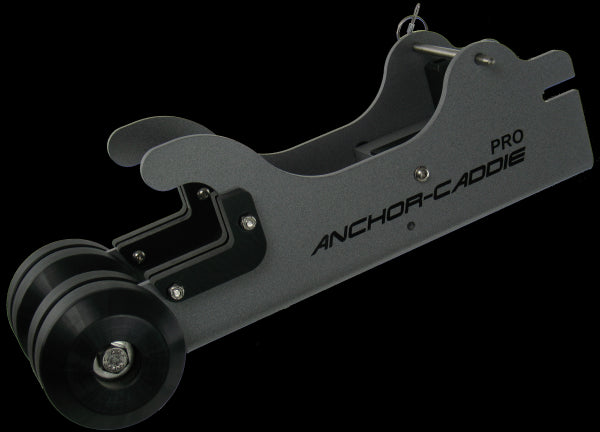 Anchor-Caddie is proud to release it entrance into the aluminum anchor nest market with the Anchor-Caddie PRO.
This is not your entry level anchor nest. It is designed for the person who demands the best, the guide who, day in and day out, puts his equipment to the test or for the serious boater demanding the best aluminum anchor nest on the market.
It's made out of ¼" thick marine grade aluminum with a protective coating to further its corrosion resistance.
But, what we feel is one of the best features of the Anchor-Caddie PRO, is the built in pivoting cleat. Your anchor rests nicely in the nest, then once deployed, you just flip the cleat into action!
While your anchor is stowed in the anchor nest, you have 3 adjustment options, depending on the width of your anchor post to keep your anchor secure when stowed. With 1 ½", 1 ¾" and 2" adjustment positions, it will accommodate the most common sizes of rocker style anchors as well as most other anchors on the market.
Since we set out to make the best aluminum anchor nest, we also increased the roller size to 4" on the Anchor-Caddie PRO to meet the demands required of a top of the line anchor nest.
All the hardware used to assemble the PRO is made out of stainless steel, just like our other anchor nests, the PRO comes with a lifetime warranty. If something goes wrong, we fix it, no questions asked!
If the marine grade aluminum and all stainless steel hardware wasn't enough, we made the rollers, guards and pads with UV resistant UHMW and HDPE, the standard for marine environment materials.
Our entrance into the aluminum anchor nest market, with the Anchor-Caddie PRO, comes from many hours on the water over several years, understanding not only what makes a good anchor nest, but what makes the best anchor nest and we feel we have stepped up to the challenge and succeeded.
Ask your favorite outfitter or go to Anchor-Caddie.com to get your Anchor-Caddie PRO today!
Reviews (3 comments)
Collection 2019
Sale 70% Off
Title for image