Sturgeon fishing from a boat setup, Part 1
Posted by PAUL ANDERSON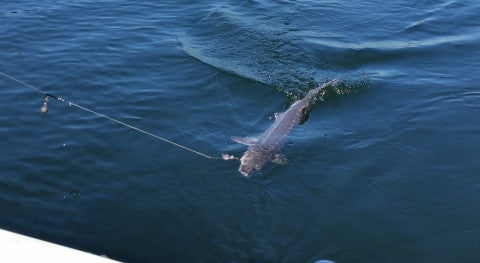 Sturgeon fishing from a boat setup, Part 1
Sturgeon fishing from a boat setup will be a series starting from rod and reel used, through landing and releasing sturgeon, including terminal tackle setup and bait selection, so stay tuned for each episode.
I do all my sturgeon fishing from a boat, so I am going to show you the basic and proven sturgeon setup for a boat rod, reel and line that I use.
Starting with the rod, I use an Ugly Stick, Tiger 20-50lb, BWC/A0 2201. This is a good overall rod and for $60, you can't go wrong. I own a few of them and have had them for 5 plus years and have never had a problem with them. I have caught everything from small shakers to oversize sturgeon on them.
You can spend less on a rod and a heck of a lot more, depending on how you want to target your sturgeon and what size you are targeting, but like I said, it's a good overall rod that will handle the fish.
Now, to the reel. I have a few different reels on my sturgeon rods, but when sturgeon fishing from a boat, you can't go wrong with the Penn 320GT or the 330GT, which will hold a bit more line. These can be had for $70 or less. Of course you can spend a lot more on a reel.
I use the 320 for my main reel and the only time that line wasn't enough, is when I nearly got spooled by a sea lion and had to cut the line to keep from getting completely spooled. Even if you hook onto an over size sturgeon and you are in a boat, you will more than likely want to get off anchor and chase the fish.
Penn has since discontinued its GT series and has replaced it with the Squall series and start in the $120 range, but I'm sure you can still find the GT series.
On the reel, as with my other sturgeon reels, I use 80lb braid. Some may say, it is overkill, especially for keeper size, but I want to make sure that when I hook up to a monster sturgeon, I don't have to worry about my line. Since sturgeon aren't hook or line shy, I don't see what difference it makes.
All that being said, if you have the budget, you could arguably have 3 or 4 different rod, reel and line combos for targeting different size sturgeon fishing from a boat, but if you are limited to just one, you can't go wrong with the Ugly Stick Tiger, Penn 320GT and 80lb braid.
Stay tuned for the next episode of Sturgeon Fishing from a boat!
Collection 2019
Sale 70% Off
Title for image