PRODUCT INFORMATION
Specifications/Dimensions
CUSTOMER REVIEWS
Q & A
PRODUCT INFORMATION
If you just recently purchased or are purchasing a new boat or renewing an existing boat and need the whole Kit N Caboodle to get out there now and fishing, this is the package for you!
This package includes everything you see in the picture that will get you setup with an anchoring system as well as rod holders, dock fenders and even an efficient method to strap your boat to your trailer.
This package includes our top of the line Anchor Caddie PRO anchor nest with load spreader plate and insulator for the anchor nest installation if needed.

You will also get the Original Anchor Rope Bag with the Rope Bag Buoy Ball to float your rope bag and 300' of 3/8 Solid Braid Nylon Rope, as well as the Boat Hook to help in retrieving your deployed rope bag and to assist you in grabbing onto the dock when needed.
Keep your boat from banging against the dock with dock fenders in this package or when you are in that Hog Line with other boats. Protect your investment!
Now to the fishing! With the Scotty Orca rod holders, they are the standard for quick release rod holders that allow you to set the hook quickly when the time comes!
And lastly, I don't know about you but, I'm tired of  storing and finding the straps to secure the stern of the boat to the trailer. With these straps, they are retractable and mounted to the trailer forever and are made of stainless steel to last in the salt!
The only thing you will need is the hardware to install your Anchor Caddie to your bow. Due to the many  different types of boats and bow decks, it would be impossible to guess what hardware you will need to install your Anchor Caddie. Don't hesitate to contact us with any questions.
It is highly recommended to use an anti-seize compound on all stainless steel hardware installations.
Specifications/Dimensions
| | |
| --- | --- |
| What's Included | |
| | |
| (1) Anchor Caddie Pro Anchor Nest | (2) Dock Fenders (choice of 3 colors) |
| (1) 25lb Anchor | (2) Scotty Orca Rod Holders |
| (1) 6' Galvanized Chain with Quick Link | (1 pair) Epco Bolt-On Tie Downs, Stainless Steel |
| (1) Buoy Ball with Anchor Puller | (1) Garelick Premium Telescoping Boat Hook |
| (1) 300' Solid Braid Nylon Rope | (1) Aluminum Load Spreader Plate |
| (1) Original Rope Bag (choice of 4 colors) | (1) Rubber Insulator Plate |
| (1) Rope Bag Buoy Ball with Stainless Steel Clip | |
Q & A
What our customers are saying!
Anchor Caddie is high quality products indeed! Hands down the best customer service I've ever dealt with and the shipping was crazy fast. Paul answered all my questions and made sure to only sell me what I needed for MY boat. I recommend Anchor Caddie to anyone looking for topnotch anchoring systems at a good price!
I had looked for some time for an anchor nest… and it fit the bill perfectly. I have used it many times now and I am really impressed with the setup. Just as impressive was the customer service I received from you on the order…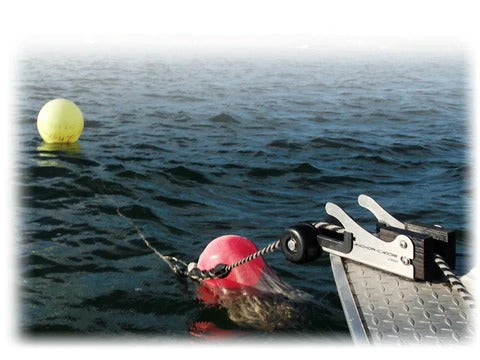 —Rod Ingram, Cornelius, OR
The anchor caddie is an awesome addition for our boat. It makes anchoring a breeze. Love the way it locks in place and allows us to travel rough water without the concern of the anchor banging around in the boat.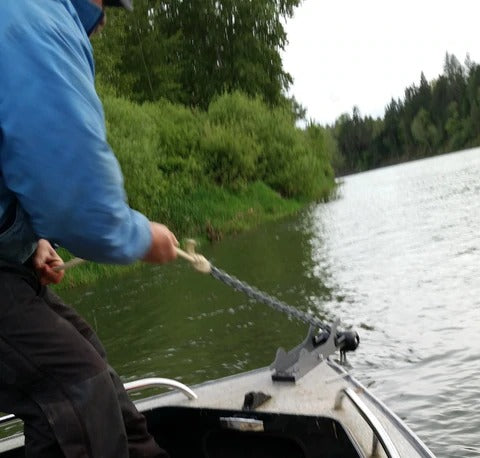 I love it! ...Thanks to Paul, Tom and all the staff at Anderson & Anderson Engineering for making such a great product.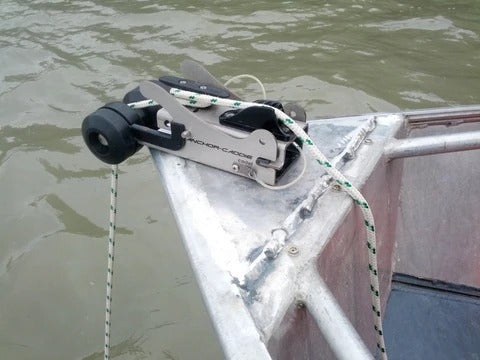 —Ron Hopp, Oregon City, OR