PRODUCT INFORMATION
CUSTOMER REVIEWS
Q & A
PRODUCT INFORMATION
The package includes everything you see in the picture:
Anchor Caddie, PRO

Galvanized 25lb River Rocker Break Away Anchor

Anchor Puller/Buoy Ball Combo

3/8" Solid Braid Nylon Rope, 300' Spool

6' of 5/16" Galvanized/Zinc Chain with Quick Link
The only thing you will need is the hardware to install your Anchor Caddie to your bow. Due to the many  different types of boats and bow decks, it would be impossible to guess what hardware you will need to install your Anchor Caddie. Don't hesitate to contact us with any questions.
It is highly recommended to use an anti-seize compound on all stainless steel hardware installations.
CUSTOMER REVIEWS
Q & A
I just bought a 24' Hewescraft OP. What size bouy ball do you run? A2-3?. Can u get a bouy ball in the limegreen/yellow color.

Hi Dustin,

In almost all circumstances with your boat, you could go with an A2. If you are mostly in ripping currents like it is on the Columbia River by the Cascade Locks, you may need an A3. If you don't mind handling the oversize A3 and have the room for it, you could go for it and be covered.

As far as the lime color, all we carry is the orange in the A2 since it is the most popular size and color. If you opt for the A3 or want the A2 in lime, you should be able to find them online or at your local outfitter that sells boating equipment.

Hope this helps.

Regards,
Paul Anderson

How long is the leaf time once order is placed

Hi Floyd,

No wait time when in stock and is currently in stock. If out of stock, it will be noted on the product page if out of stock.

Please see our shipping policy here, Shipping Information | Anchor-Caddie

We normally ship no later than the next business day.

Thanks for the question!

Paul Anderson

I just purchased a 2109 Alumaweld Stryker and would like to know the mounting hardware package part number as well as the cost please. I am a vet and wondering if there is a discounts for vets. Thanks I'm getting the anchor caddie pro

Hi Jim,

We do not have a hardware package. There are too many different bow configurations and we would have to have to carry too much hardware to get it right. You can watch our installation video to get a better understanding on how to select hardware. Installation Video 

As far as veteran's discount, use ****** as your discount code to get 15% off. BTW, Thank you for your service!

Regards,
Paul

I have a tracker 175 combop boat and looking to get the right set up for the Columbia river. can you guys help me out? also do you guys offer any military discount?

Hi Fernando, Yes to both!

For the Columbia River and similar river situations, you are looking at the right product, the Anchor Caddie PRO Anchoring Package (BAP-PRO). You could also go with our other base anchoring package, the Original, which can be found here. These packages will get you anchored today.

You may also consider an anchor rope bag and a small buoy to float the bag in the event you need to get off anchor quickly and throw your bag over to chase the fish or get out of harm's way. Rope bags can be seen here and the small buoy for the bag can be seen here.

As far as the military discount, we offer 15% off anything in the store in appreciation for your service. We wish we could give more, but we do need to make a buck to keep going :)

Anyway, give us a call and we will either give you the discount code or take the order over the phone and apply the discount. We don't verify service status, so we don't like to publish the discount code online, since we operate on the honor system. Let me know if you have any more questions! Regards, Paul Anderson Direct: 503-784-3751

How come the load spreader plate and rubber insulator plate is not included in your packages?

Hi Jeremy,
They are not included because they are not required for installation, but some folks do like to have them.
What our customers are saying!
Anchor Caddie is high quality products indeed! Hands down the best customer service I've ever dealt with and the shipping was crazy fast. Paul answered all my questions and made sure to only sell me what I needed for MY boat. I recommend Anchor Caddie to anyone looking for topnotch anchoring systems at a good price!
I had looked for some time for an anchor nest… and it fit the bill perfectly. I have used it many times now and I am really impressed with the setup. Just as impressive was the customer service I received from you on the order…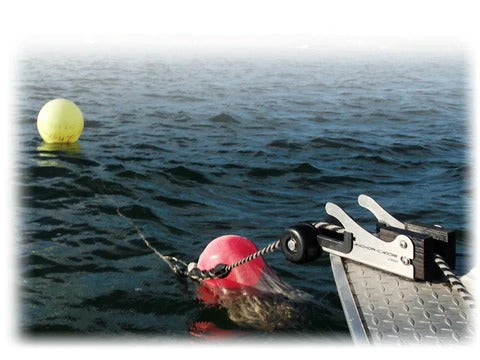 —Rod Ingram, Cornelius, OR
The anchor caddie is an awesome addition for our boat. It makes anchoring a breeze. Love the way it locks in place and allows us to travel rough water without the concern of the anchor banging around in the boat.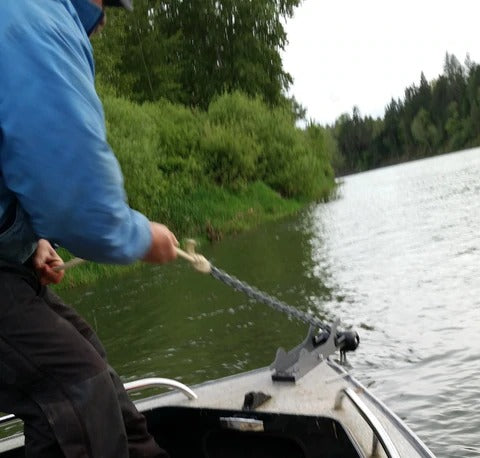 I love it! ...Thanks to Paul, Tom and all the staff at Anderson & Anderson Engineering for making such a great product.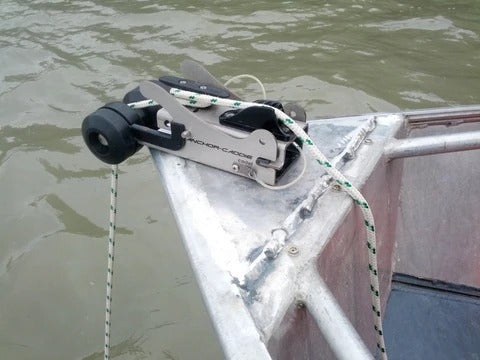 —Ron Hopp, Oregon City, OR