PRODUCT INFORMATION
Specifications/Dimensions
Videos
CUSTOMER REVIEWS
Q & A
PRODUCT INFORMATION
Our entrance into the aluminum anchor nest market, with the Anchor-Caddie PRO, comes from many hours on the water over several years, understanding not only what makes a good anchor nest, but what makes the best anchor nest and we feel we have stepped up to the challenge and succeeded.
The pivoting cleat allows you to have your anchor stowed with the anchor cradle on one side, adjusting to 3 anchor widths, 1 1/2", 1 3/4" & 2" anchors. Deploy your anchor and flip the cradle over and put cleat into action.
1/4" thick marine grade aluminum

Protective coating that cleans and protects the aluminum

Built in pivoting cleat, holds 3/8" - 5/8" rope

UHMW & HDPE rollers, guards and trim

All stainless steel hardware

Lifetime guarantee
See more detailed information here.
It is highly recommended to use an anti-seize compound on all stainless steel hardware installations.
Specifications/Dimensions
Videos
This video shows the basic anchor nest installation. If you have a different model, the installation may vary slightly, but the method will be the same.
CUSTOMER REVIEWS
Q & A
Hi, l purchased a second motorguide quick disconnect. I have a fluke style anchor. Instead of buying the adaptor plate, l was going to use a adaptor plate of wood and not worry about changing angle from electric trolling motor. Will l have clearance problems? Secondly, do you ship free to Ontario? I plan on purchasing a full size caddie.

Hi Michael,

I am having a hard tim envisioning your wood concept. maybe if you could sketch something out on a napkin or something, I might be able to offer some feedback.

As far as free shipping to Canada, sorry, the current shipping rates as they are, make it diffult to do that, especially with the additional duties and taxes.

Regards,
Paul Anderson

What is the actual difference between the "pro" vice the standard nest? Is it just the pivoting cleat?

Hi Michael,

The main difference is, the PRO is made from 1/4" aluminum and the Original is made from 1/8" stainless steel.

We have a video that goes into a little more detail for each anchor nest, Which Anchor Nest is right for my boat? - YouTube

Thanks for the question!

Regards,
Paul Anderson

With this work with a 2 inch square anchor

Hi Trevor,

Yes, It will work with a 2" square anchor. The posts that come on the built in cleat bracket are adjustable from 1-1/2" to 2".

Thanks for the question!

Regards,
Paul Anderson

How long is wait time after order is placed

Hi Floyd,

No wait time when in stock and is currently in stock. If out of stock, it will be noted on the product page if out of stock.

Please see our shipping policy here, Shipping Information | Anchor-Caddie

We normally ship no later than the next business day.

Thanks for the question!

Paul Anderson

Will this unit work for a 25 LBS Navy style anchor?

Hi David,

Yes, this will hold a 25lb Navy anchor.

Thanks for the question!

Regards,
Paul Anderson

I have a 2003 Arima Sea chaser. I want to replace the anchor mount. Which unit is best for my boat.

Hi Clay,

You can go with either our PRO or one of the Original's in Clear or Gray Hammertone

Thanks,
Paul Anderson

I understand you are re-engineering your Minn Kota adapter plate mounts for use with the Anchor Caddie Pro. Will the new mounts accommodate a Minn Kota Riptide Terrova 112, Minn Kota Product # 1363732 (60")?

Hi Ricard,

Yes, but our adapter kit mounts to a Minn Kota quick release bracket top plate. and will be compatible to the Minn Kota Quick Release Bracket, RTA-54 which is compatible with your Riptide Terrova.

If you already have your Riptide on a quick release bracket, you will need an additional quick release bracket of the same model to use our adapter kit. If not, you will need 2 of the same quick release brackets, 1 for your motor and the other for our adapter kit that allows you to install the Anchor Caddie anchor nest.

Thanks,
Paul Anderson


Does it come with spreader plates? Or do I need them?

Hi Robert,

No, it does not come with them and they are not required to install your Anchor Caddie.

Regards,
Paul Anderson

Is it possible to get the pro model with out the predrilled holes for mounting?

Hi Larry,

Unfortunately not while keeping the same price. We make these in high quantity lots and all features are laser cut at the same time to keep our costs under control.

Although it is possible to do a 1 off, folks would not want to see the price of doing that 1.

Regards,
Paul Anderson

Does the pro work for 15lb anchors?

Hi Carlos,

YES, it will work with our 15lb anchor!

Does the pro come with the rubber and bottom mounting plate

Hi Joshua,

Unfortunately it does not. There are too many installation types and a very small percentage of installations actually need them, so if it came together, a lot of them would just end up in the trash.

Thanks for your interest and let me know if you have any more questions.

Regards,
Paul Anderson

Will this mount to a Terrova trolling motor mount if I have a spare top plate without drilling? And should that mount be strong enough for fishing the Columbia River out of a 2075 Aluminum Lund for sturgeon?

Hi Rick,

Short answer, NO.
That is the reason we came up with our Trolling Motor Adapter Kit

As far as being strong enough, that would soley depend on the installation of your bottom plate of your Minn Kota quick release base that is mounted to your boat. If that is a sound installation, then yes!

Let me know if you have any more questions.

Regards,
Paul Anderson

Dimensions? Anchor size/boat size recommendations? Godfrey Fun Deck 248.

Hi Greg,

The PRO is about 18" long and 4-1/2" wide. The rollers would hang over your bow, so you would have at most, 14" on your bow deck, but the installation can be pushed out to have half on the bow and half hanging over if needed. Here's a link to our spec's and installation recommendations.

As far as anchor size, it really depends on the type of current you will be anchoring in. A 25lb anchor with an extra 6 foot of chain, brings you a little over 32lbs and should be sufficient for most situations for your boat.

Thanks for the question!

I have a Thunder Jet and do not have access to under the bow for the nuts . How would you suggest I mount this caddie pro on my TJ

Hi Peter, The 2 most common options are: 1) Cut a hole on the vertical wall behind the bow deck and install an inspection plate like the picture below. This is the easiest and most economical of the 2. You will now have access to nut & bolt your Anchor Caddie. 2) We offer a weld on threaded plate that you weld on the top of the bow. This plate is 1/2" thick aluminum and with the Anchor Caddie hole pattern. Once it is welded on the bow, you just bolt it on with the hardware that comes with our weld on threaded plate. You can see that here, https://www.anchor-caddie.com/products/weld-on-threaded-plate-original-cadet I hope this helps and let me know if you have any more questions. Thanks, Paul Anderson

Is hardware included to mount the Anchor Caddie?

Hi John,
Sorry, do to varying boat types, bow thickness and styles, it would be very difficult to know what bolt length is needed. You can watch our installation video to help guide you, Anchor Caddie Installation
What our customers are saying!
Anchor Caddie is high quality products indeed! Hands down the best customer service I've ever dealt with and the shipping was crazy fast. Paul answered all my questions and made sure to only sell me what I needed for MY boat. I recommend Anchor Caddie to anyone looking for topnotch anchoring systems at a good price!
I had looked for some time for an anchor nest… and it fit the bill perfectly. I have used it many times now and I am really impressed with the setup. Just as impressive was the customer service I received from you on the order…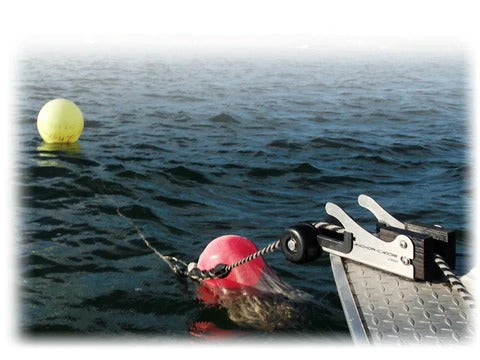 —Rod Ingram, Cornelius, OR
The anchor caddie is an awesome addition for our boat. It makes anchoring a breeze. Love the way it locks in place and allows us to travel rough water without the concern of the anchor banging around in the boat.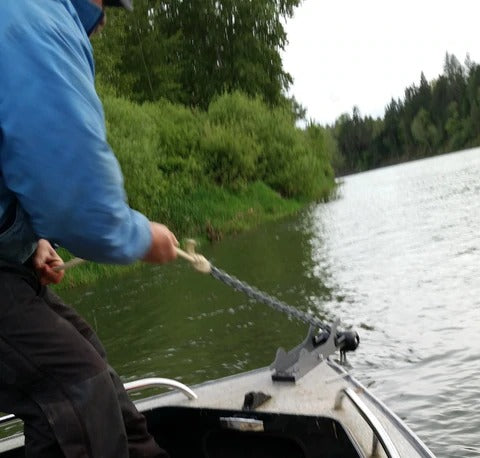 I love it! ...Thanks to Paul, Tom and all the staff at Anderson & Anderson Engineering for making such a great product.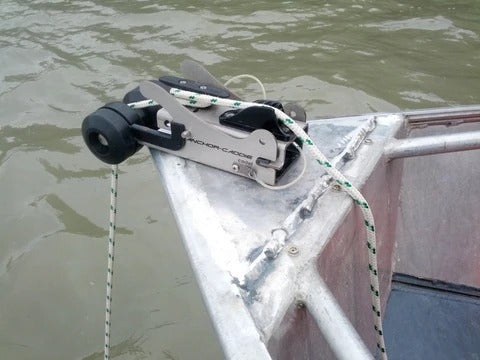 —Ron Hopp, Oregon City, OR