PRODUCT INFORMATION
Specifications/Dimensions
Videos
CUSTOMER REVIEWS
Q & A
PRODUCT INFORMATION
We call it "The Drifter"! This is the perfect anchor rope and rode bag for drift boats that don't require the capacity, bells and whistles that come with our Original, PRO and XL anchor rope bags. But it is still built with the same materials and quality as our other anchor rope/rode bags!
We developed this drift boat bag from input from drift boat guides and other drift boat fisherman that wanted a quality product, but only needed to store about 100' of rope with room to drop their anchor in there as well.
We have designed this drift boat anchor rope bag to hold about 150' of 1/2" rope and comes in at about 10" diameter by about 13" tall. We also added 2 top carrying handles, as well as a stainless steel D-ring to hang the bag on a clip or hook in your drift boat to keep it off the deck if desired.
Stainless Steel D-Ring
Top Carrying Handles
5/8" Solid Brass Grommet
This drift boat anchor rope bag is not only for the drift boat angler, it is also for those boaters that don't require as much rope and rode storage than our Original, PRO and XL anchor rode bags offer.
Often, we get requests to add some of our features that you will find on our Original rope bag, but not enough to change our design so we also offer customization for this anchor rope bag. We can add Closure Buckles and Custom Cleat for an additional cost.
To do this, just add your preferred Drifter to your shopping cart and follow this link to choose your customization, Custom Rope Bag Additions | Anchor-Caddie
Specifications/Dimensions
The rope capacity is based on supple solid braid nylon rope, so the capacity may vary depending on rope type and stiffness.
| | |
| --- | --- |
| Approximate Height | 13" |
| Approximate Width | 10" |
| Approximate Capacity | 150' of ½" Rope |
| | |
| Available Colors | Hi-Vis Yellow |
| | Hi-Vis Orange |
CUSTOMER REVIEWS
Q & A
I would like to order 2 drifter bags(orange). We are only using 70' of line with a coated chain with our 5lb Fortress anchor. We would like closures added. How do I go about this?

Hi Chad,

You would add the 2 Drifters to your cart and go back to the Drifter page and you will find a link to customizations at the bottom of the description of the bag titled, Custom Rope Bag Additions | Anchor-Caddie

You can also click on this link once you have added the Drifters to your cart, Custom Rope Bag Additions | Anchor-Caddie 

You can then choose the additions you would like and continue with your checkout.

Thanks for the question!

Regards,
Paul Anderson

I would like to order 2 of these. 1 of 3 questions, I see in the pictures there is a side grommet now, is this standard to tie off the bitter end of anchor rope? Question 2, would like closures added. How do I go about this? 3, do you offer any lengths of rope smaller than 300 foot? If not, do you recommend any specific rope (3/8", i have a 22ft deck boat, mostly in water less than 75 ft. Thank you. Selecting your product over the cheap knock offs, Chinese crap, etc. We own a small business and believe is supporting USA. Thank you in advance for your time.

Hi Daren,

First, I appreciate you supporting small business that produce US made products here in the US!

Now, to your questions.

(1) Yes, but not necessary if all you need is a place to contain your rope/rode.
(2) If you want customization by only adding the closures to the Drifters, it is currently $5.00 each. How you would go about that is, shoot us an email with your request, your name and shipping address and we can fill your shopping cart for you and email you a link to complete your purchase. Only one thing to keep in mind, anytime we do customizations, there are no returns unless there is a blatent error on our part.
(3) We do not currently offer less that 300'. Although in 75' of water, even with little to no current, you may want to have more than you think you need, it's better to be looking at it than looking for it ;). I would still go with 3/8" Nylon though.

Hopefully this answered your questions, if not, don't hesitate to contact us.

Regards,
Paul Anderson

Does the drifter include a side grommet

Hi Mike,

Yes, the Drifter has a 5/8" grommet on the back near the bottom.

Thanks for the question!

Regards,
Paul Anderson

can you please send items to Denmark? I can not choose Denmark at your website

Hi Thore,

We cannot setup shipping costs to Denmark however, if you can provide the details of what you want and the delivery address, we can send you a shipping cost.

Thanks,
Paul Anderson

Will the drifter bag handle 3/8" x 250' Extreme Max 3006.2505 BoatTector Double Braid Nylon Anchor Line with Thimble?

Hi Anthony,

I don't think it would handle it. We obviously can't try every rope size and type in our bags, but considering it would hold about 150' of 1/2" rope, I think that it may hold more like 200' of the 3/8" at best.

I recommend you bump up to our COHO or Original.

Thanks for the question!

Regards,
Paul Anderson

Should also add to my previous question about using your Drift boat anchor rope bag with a 20 lb Pyramid Anchor, my anchor rope is only 50' of 1/2 double braid nylon. I would purchase two of these bags if they will work. Because the Pyramid anchor is relatively compact (compared to many other styles of anchors) and I'm only to be putting 50' of 1/2" double braid nylon anchor rope in each bag, perhaps a small version version of your Drift boat anchor bag would save me some space in the boat, and some $?? Thank you. Cheers,

Hi Shannon,

If your question is, do we have a smaller Drifter Anchor Rope Bag, we don't, sorry.

We can do custom size bags, but it won't save you any $$ since they are custom one offs. If you purchase 1 and find out how tall you would like the second bag, let us know and we will quote it for you.

Thanks for the question!

Regards,
Paul Anderson

Is the Drift boat anchor rope bag strong enough to hold a 20 lb pyramid anchor? Risk of the pyramid point piercing the bag's fabric?

Hi Shannon,

The Drifter Rope Bag will be strong enough to hold your anchor with ease. When we tested these bags, we put a 40lb cement block inside and let it hang by the handles for almost a year with no issues.

As far as your pyramid anchor piercing the mesh material, the material is very strong, but can be cut by sharp objects, but I don't think that after a few times of your anchor running over the rocks that it would be sharp enough to do any damage. But back to the cement blocks we put in the bags, they had sharp corners and did not damage the bags.

All that being said, even though the material is very strong, I cannot guarantee you will not cut the bag.

Thanks for the question!

Paul Anderson

Hi. I am interested to Buy a Drift boat anchor rope bag however it is a bit tall to fit in my locker. Searching through FAQ i see that they can be modified.Is it possible to order a drift boat anchor rope bag with these dimensions? 13 inches width (Diameter ) with 10 inches height. If possible, could you please confirm and guide me on how to place my specific order? Will i use the website and make a comment or? Yours Truly Kenneth

Hi Kenneth,

Yes we can!

Please send an email to Sales@Anchor-Caddie.com with the color and quantity you want.


Can you modify the bag design for custom orders?

Hi Dave,

YES we can!

Let us know what specifics you want, i.e., size, color, features and if within our capabilities, we will come up with a price and lead-time for you.

Please include as many specifics as possible, as well as quantity.

Once you give us all the details possible, we may followup with a phone call or emails to dial it in, so don't hesitate to give us a call or shoot us an email.

Regards,
Paul Anderson
Paul@Anchor-Caddie.com

888-405-3930

I have 100' of 1/2" rode spliced to 20' of 1/4" G4 galvanized chain for the stern/spare anchor on my sail boat. Will the bag hold up to the weight and any potential abrasion?

Hi Mike, I'm pretty sure that it will hold all of that rode, since it will hold 150' of 1/2" rope to the top. As far as the abrasion, the mesh is very durable and will hold up for years. Let me know if you have any more questions. Regards, Paul Anderson

Hi, I'm interested in the drifter bag. I am looking to store a 15lbs navy anchor and 60 of 3/8" rope. For our 18' boat. I think this bag would work?

Hi Keith,

If you don't mind the anchor sticking out of the top of the bag, it will work just fine. I'm basing this off a typical 15lb navy anchor being about 8" wide and about 14" tall. The Drifter anchor rope bag is about 10" around by about 12" tall.

Don't hesitate to let us know if you have any more questions.

Thanks,
Paul Anderson

What are the exact deminsions? It says "about 10x12". It looks larger than that in the pictures.

Hi John,

Our Drifter Anchor Rope Bag is no bigger than 10x12. The dimensions are based off of our raw cut size, meaning the round bottom is cut at 10" and when it's sewn on, you lose about a half inch or so. The same goes for the wrap, it is cut at 12", then is sewn on and you lose about a half inch or so because of the hem.

I hope this answers your question and don't hesitate to give us a call anytime.

Thanks,
Paul Anderson

Does this bag have the same strap and buckle system as the original to keep the rope from falling out?

Hi Paul, No, the Drifter does not.
What our customers are saying!
Anchor Caddie is high quality products indeed! Hands down the best customer service I've ever dealt with and the shipping was crazy fast. Paul answered all my questions and made sure to only sell me what I needed for MY boat. I recommend Anchor Caddie to anyone looking for topnotch anchoring systems at a good price!
I had looked for some time for an anchor nest… and it fit the bill perfectly. I have used it many times now and I am really impressed with the setup. Just as impressive was the customer service I received from you on the order…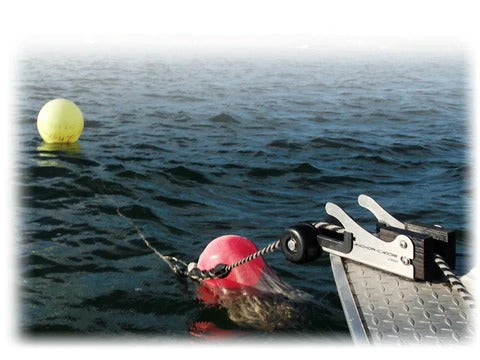 —Rod Ingram, Cornelius, OR
The anchor caddie is an awesome addition for our boat. It makes anchoring a breeze. Love the way it locks in place and allows us to travel rough water without the concern of the anchor banging around in the boat.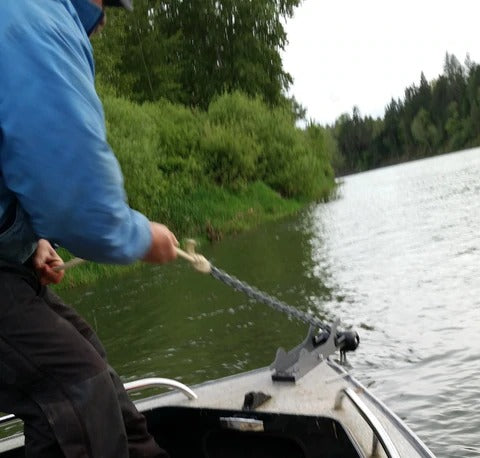 I love it! ...Thanks to Paul, Tom and all the staff at Anderson & Anderson Engineering for making such a great product.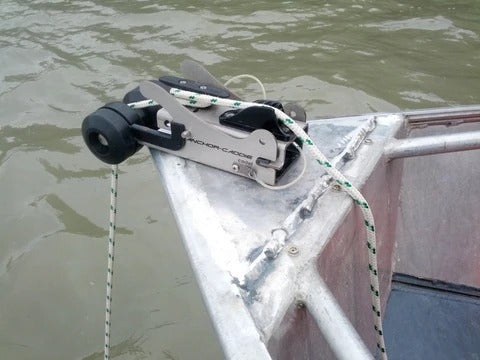 —Ron Hopp, Oregon City, OR