PRODUCT INFORMATION
Specifications/Dimensions
Videos
CUSTOMER REVIEWS
Q & A
PRODUCT INFORMATION
Our anchors are made in the US from galvanized solid steel in the most popular sizes.

Our 25 lb anchor, which will work on most boats up to 4,000 lbs. Add 6 ft of our 5/16" chain to get an extra 5+ pounds to help in stronger currents and help the anchor lay down, bringing it up to 31 pounds. Approximate size: 18" wide by 18" deep by 21" high and made up of 1 1/2" round bar and 3/8" thick tines.
Multi-position link at the base to help the anchor fit snug in your anchor nest.
Our 15 lb anchor is perfect for smaller boats, up to 16 ft, made of the same quality as our 25 lb anchor, just smaller for those who don't need all that weight to hold their boat. Again, if you need a little extra weight,  add 6 ft of our 5/16" chain to get an extra 5+ pounds to help in stronger currents and help the anchor lay down, bringing it up to 21 pounds. Approximate size: 12" wide by 11" deep by 14" high
There are 50% more welds and 50% thicker tines than most others on the market, which makes it one of the strongest anchors of its type. And of course, it comes with the Anchor Caddie Lifetime Guarantee!
Please note that your anchor will come with a zip tie for the breakaway feature that is rated at 75lbs. which may or may not be suitable for your situation. See the video by clicking on the "Videos" tab.
What it is:
Made in the USA, with American steel
Commercially Hot Dip Galvanized
Made with 3/8" thick steel tines
Sloped captive zip tie loop to keep your chain from slipping down and getting caught on your anchor nest upon retrieval
Made by folks that fish and use the product on their own boats
Lifetime Guarantee that it will never break
What it is NOT:
Made in China
Spray painted, spray on galvanized paint or rubber dipped that will peel off after an anchoring or two
1/4" tines like our Chinese competitors
Center open loop or welded on chain link that lets your chain slip down and catch on your anchor nest upon retrieval
Made by people in a factory who do not and will never use one
30 day conditional guarantee, at best
Specifications/Dimensions
CUSTOMER REVIEWS
Q & A
I bought an anchor caddie ancho and nest from you in 2017, unfortunately it melted into a puddle during a house fire. Anyways I am wondering why it always says that the 15 lb. anchor is out of stock? I will probably go with the 25 again ,I just like options. Yes I still have the nest!

Hi Matthew,

We have just finished our batch of 15lb anchors and are now in stock. Sorry for the delay!

As far as your anchor nest, do you need parts for it? If so, send us an email and we will see what can be done.

Regards,
Paul Anderson

Hello! I have to buy a rocker anchor 15 lb for an insurance claiming. I need a quote please, with estimate cost of delivery in Quebec, Canada. Many thanks!

Hi Francis,

The cost of the 15lb anchor is $99.95 USD and for the shipping, you would need to add it to cart, enter your shipping address and choose your shipping option to get an exact shipping quote.

Thanks for the question!

Regards,
Paul Anderson

What is the length of 25# anchor as well as the length of the 15#? Also, the 15# says available for pre-order. How long until it is in stock?

Hi John,

The 25lb anchor is about 22" long and the 15lb anchor is about 15" long.

Also, the 15lb anchors just came in and are available to ship.

Regards,
Paul Anderson

Would a Galvanized River Rocker be a good choice for a rocky shallow section of the Delaware River? I going to use a bow mounted anchor caddy

Hi William,

Our Rocker Anchor is a good general anchor for both soft and harder bottoms. The narrow tines allows the anchor to dig in better in a cobble stone mixed bottom and the weight allows it to hold better in softer sandy bottoms.

We cannot guarantee that our anchor will hold in all conditions, as no anchor manufacturer can, but between the weight of the anchor and the narrow pointed tines, you should be good to go.

One thing that I have to do when our rivers are running fast and high in the spring run-off in my normal holes, is add 6' of additional chain to add a little weight and help it lay down.

I know that this is not a diffinitive yes or no answer, but this should help.

Regards,
Paul Anderson

What weight anchor would work best for me? We have a 16ft Alumaweld and mostly go out on the Sacramento River but plan to take it other places as well. I was interested in the 15lb but wasn't sure if it would hold up. Thanks!

Hi Hannah,

The 15lb anchor could be a good choice, but the 25lb anchor would work better. A good rule of thumb is to use just enough anchor to get the job done for handling purposes. For example, a 100lb anchor would work, but who wants to wrestle with that much weight?

It would be impossible for me to tell you which river anchor would be best due to the varying conditions like current, bottom conditions, wind, etc., but like I said, use just enough anchor to get the job done and I think that the 15lb could do that. If you opted for the 15lb, I would add an additional 6' of chain to the end of it, just to make sure.

Hope this helps and don't hesitate to contact directly if you have any more questions.

Regards,
Paul Anderson
What our customers are saying!
Anchor Caddie is high quality products indeed! Hands down the best customer service I've ever dealt with and the shipping was crazy fast. Paul answered all my questions and made sure to only sell me what I needed for MY boat. I recommend Anchor Caddie to anyone looking for topnotch anchoring systems at a good price!
I had looked for some time for an anchor nest… and it fit the bill perfectly. I have used it many times now and I am really impressed with the setup. Just as impressive was the customer service I received from you on the order…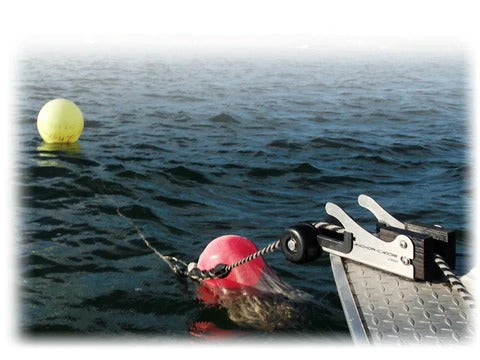 —Rod Ingram, Cornelius, OR
The anchor caddie is an awesome addition for our boat. It makes anchoring a breeze. Love the way it locks in place and allows us to travel rough water without the concern of the anchor banging around in the boat.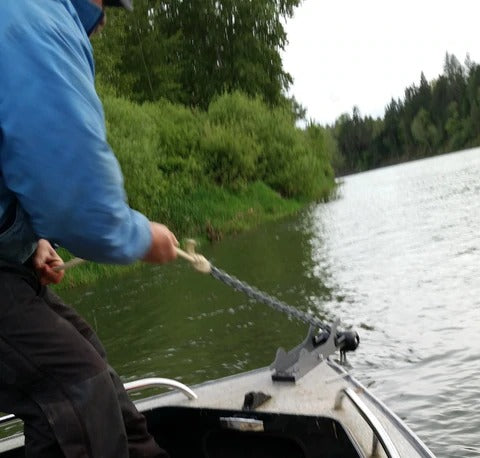 I love it! ...Thanks to Paul, Tom and all the staff at Anderson & Anderson Engineering for making such a great product.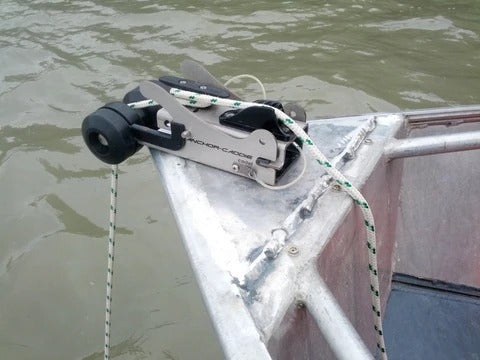 —Ron Hopp, Oregon City, OR